While the aesthetics of a website can inspire, user-friendliness is the key to achieving true success.
We strongly believe in striking the right balance between these two elements of design, ultimately leading to an exceptional user experience for your visitors.
Our highly experienced web design team can help you create a strong visually appealing, user-friendly, and brand-aligned design that effectively communicates your message and engages your website visitors. That can turn your traffic into customers.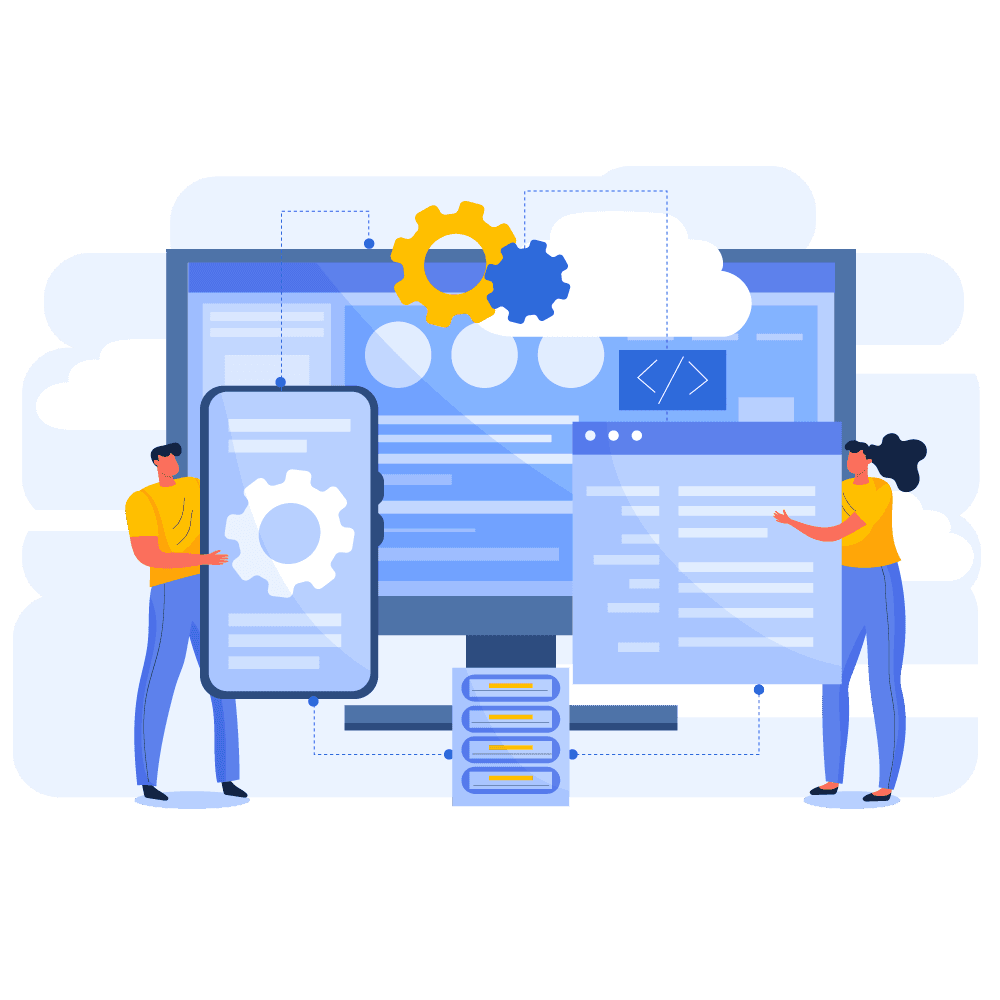 Custom Website Design

We can create unique and tailor-made website designs that align with your brand identity, goals, and target audience.

E-Commerce Design

We create e-commerce website with design features such as product catalogs, shopping carts, secure payment gateways, and inventory management systems.

CMS Web Design

We deliver CMS web design services for small and large businesses, creating exclusive CMS solutions that enhance website functionality.

Corporate Websites

Our corporate website service focuses on designing professional and impactful websites for businesses that represent their brand, showcase their products or services, and engage their target audience.

Landing Page Design

Our landing page design service specialises in creating impactful and compelling landing pages that drive conversions and engage visitors.

Blog Web Design

Our blog web design service specialises in creating visually appealing and user-friendly blog pages that engage readers and enhance the overall browsing experience

Website Redesign

Our website redesign service aims to revamp and enhance your existing website to improve its visual appeal, user experience, and overall performance.
Why Choose Our Web Design
Services
The advantages of working with us with our high skilled designers
We ensure simplified navigation, design, cross-browser and cross-device compatibility & more.
When you choose Dtads Studio, you can expect professional and custom web design services at a fair price
We check how your site display across all browsers & devices to ensure consistent users experience.
4
High Performance Website
Regardless of the number of graphic elements on your site, it will load as quickly as possible. Speed is essential to not lose the site visitors.
We prioritise user experience, ensuring an intuitive and responsive website that is easy to navigate on various devices and screen sizes
We value timely project completion and will deliver your website design within the agreed-upon wireframe without compromising on quality.
06. Iterations & Feedback
01. Initial Consultation
We begin with an initial consultation to gather information about your business, industry, target audience, and specific requirements for the website. This helps us understand your goals and expectations.
02. Brand Analysis
We conducts thorough research on your industry, competitors, and target audience. We analyse current design trends, user preferences, and successful website examples to gather insights and inspiration for the concept.
03. Concept Development
Based on the information gathered, we develop a website design concept. This includes determining the overall visual style, color palette, typography, imagery, and layout. We aim to create a concept that represents your brand identity and resonates with your target audience.
04. Wireframing
We create wireframes that outline the website's structure and layout. Wireframes provide a blueprint of the website, showcasing the placement of key elements, content sections, and navigation. This helps visualise the user flow and overall organisation of the website
05. Visual Design
Using the approved wireframes as a guide, our designers transform the concept into visually appealing designs. This includes creating custom graphics, selecting appropriate imagery, and refining the color scheme and typography. The visual design stage brings the concept to life
06. Iterations & Feedback
We present the website design concept to you, explaining the design decisions and showcasing the visual elements. We value your feedback and collaborate with you to refine and iterate on the concept based on your input.
07. Approval & Handoff
Once the concept meets your approval, we finalise the design and prepare it for the development phase. This includes delivering the necessary design files and assets to our development team, ensuring a smooth transition from design to implementation
Design Technologies We
Work It
Most
Frequent Questions
Here are some frequently asked questions (FAQs) about our website design services
What is the typical timeline for website design projects?
I only need a few pages designed, can you help?
Will my website be truly unique?
Will my website be mobile-friendly and responsive?
Is custom web design really worth the investment?