Establish a powerful online platform that showcases your products or services, engages your audience, and drives business growth with our CMS website development service.
Let us create a tailored CMS website that establishes a strong digital presence for your
We will guide you through the entire process, from initial design and development to content organisation and ongoing maintenance. With our Content Manage System (CMS) Website Development Service, you'll have full control over your website's content, enabling you to update and manage it efficiently.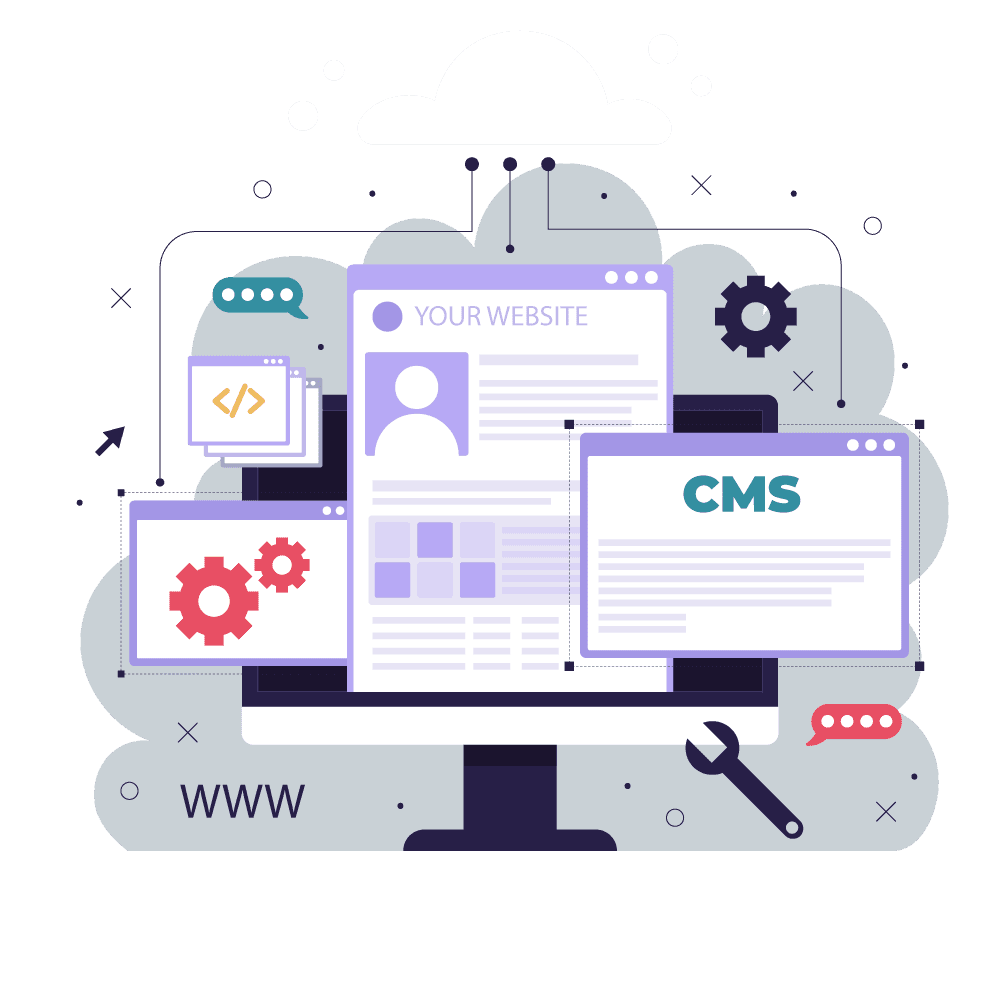 Our CMS Development
Services
Maximise your business benefits with SEO friendly CMS solutions tailored to your needs. Enjoy feature rich functionality and leverage add-ons and plugin integrations for enhanced performance.
CMS Development

Rely on our CMS web development services at Dtads Studio to create tailored, adaptable CMS solutions. Enhance your CMS performance by constructing personalised themes, modules, templates, plugins, and more. Develop user-centric custom CMS solutions to reach your target audience effectively.

Custom CMS Development

Harness the power of our CMS website development services to personalise your CMS based on your business logic and user needs. Create a custom CMS that enhances customer experience, boosts retention rates, and drives business growth.

CMS Website Design

Enhance your website's performance and user-friendliness with our custom designs integrated into your CMS platform. Prevent unresponsiveness, improve functionality, and effectively manage your website content

CMS Integration Services

Achieve seamless integration of your CMS with other applications, tools, and platforms through our CMS Integration Services. Connect your CMS to e-commerce systems, CRM software, or marketing automation platforms, and enjoy enhanced functionality with smooth data exchange.

CMS Migration Services

Experience a seamless CMS migration with our hassle-free CMS Migration Services. Upgrade to a more advanced CMS or transition from a static website to a dynamic CMS effortlessly. We handle data transfer, content mapping, and SEO preservation to minimise downtime and maintain website integrity. Trust us for a smooth and efficient CMS migration process.

CMS Plugin Development

Our CMS Plugin Development services empower your content management system (CMS) with custom plugins tailored to your specific needs. Whether you require additional functionality, integration with third-party tools, or unique features, our expert developers can create plugins that seamlessly integrate into your CMS.

CMS Support and Maintenance

Ensures the smooth operation and continuous improvement of your CMS website. We provide comprehensive support and ongoing maintenance to keep your CMS up to date, secure, and optimised for performance
Harnessing the latest platform for
CMS Development
Experience top-notch CMS development using the latest platforms at Dtads Studio. Our skilled team leverages the power of cutting-edge technologies to create robust and efficient content management systems tailored to your needs.
Why Choose Our CMS Development
Solutions?
With our expertise, you can have confidence in the quality of your website and enjoy ongoing support and maintenance services
We implement an SEO-friendly coding structure, optimise images, and employ other techniques to improve your website's search engine ranking.
By entrusting us with building your CMS website, you save valuable time and resources, as our expertise allows us to streamline the development process efficiently.
Our team has the knowledge and experience to build your CMS website effectively, ensuring it meets your specific needs and requirements.
4
Integration & Extensibility
We can seamlessly integrate your CMS website with other systems and tools, enhancing its functionality and streamlining your business processes.
Our CMS websites are built to be scalable, allowing your website to accommodate new content, features, and functionalities as your business expands.
We provide ongoing support and maintenance services, ensuring that your website remains secure, up to date, and optimised for performance.
01. Requirement Gathering
05. Deployment & Training
06. Maintenance & Support
01. Requirement Gathering
We begin by understanding your specific requirements, goals, and desired features for the CMS. This includes discussing content management needs, user roles, workflow, and any other custom functionalities.
02. Planning and Design
Based on the gathered requirements, we create a comprehensive plan and design for the CMS. This includes defining the database structure, content types, user interface design, and any integrations with third-party systems.
03. Development
We starts building the CMS based on the planned design. This involves creating the backend infrastructure, implementing content management features, user authentication, and developing any custom modules or extensions required.
04. Testing
Rigorous testing is conducted to ensure the CMS functions properly and meets all requirements. This includes functionality testing, user interface testing, performance testing, and compatibility testing across different browsers and devices.
05. Deployment & Training
Once testing is complete, we deploy the CMS to the production environment and provide training to your team on how to effectively use and manage the CMS. We also assist in migrating existing content if needed.
06. Maintenance & Support
After deployment, we offer ongoing maintenance and support services, ensuring the CMS remains up to date, secure, and optimised for performance. We address any issues that may arise and provide regular updates and enhancements as required.
CMS Technologies We
Work It
What is the average monthly cost for a website?
Can I check my website during development process?
What is the difference between a CMS and a website?
Can I migrate my existing website to a CMS?